Realme just launched its latest Narzo series of smartphones including the Realme Narzo 60 and Realme Narzo 60 Pro. The company claims that the Realme Narzo 60 Pro is the first and only smartphone in its price segment to come packing 1 TB internal storage, and a few other segment firsts such as Auto Zoom. The Realme Narzo 60 5G was unveiled today starting at ₹17,999 and the Realme Narzo 60 Pro 5G starts at ₹23,999. To understand what sets these phones apart from the competition, we spoke to Bazul Kochar, Product Manager, realme India. The conversation was quite insightful and we learned about the technological advancements made for the Narzo 60 series, realme's R&D team, their partnership with Amazon and Flipkart for the Narzo and Number series respectively, and more!
Digit: realme has a reputation for providing power for the entry-level segment, especially with its Narzo series. How has the audience reception been to the narzo series?
Bazul Kochar: realme takes pride in constantly striving to offer cutting-edge technologies and powerful features, ensuring that our customers receive exceptional value for their investments.
When it comes to the narzo series, we are thrilled to share that the audience reception has been nothing short of phenomenal. Here we can mention we get 1M user base increase within 1 year - last year it was 12.3M and now we have a user base of 13.4M. Embracing the next-gen tech of the narzo lineup, we have garnered widespread acclaim from tech enthusiasts and consumers alike. Here are some key highlights of the audience reception:
Unmatched Performance: The narzo series has consistently delivered exceptional performance in its price segment. Powered by robust processors and optimized software, these devices provide a seamless and fluid user experience, whether it's multitasking or day-to-day tasks.
Bold Design: realme has always placed a strong emphasis on design aesthetics, and the narzo series is no exception. Its eye-catching and contemporary designs resonate well with our young and dynamic user base of 13.4 million in India, making a bold statement while reflecting their individual style. Specially, N53's design which is the thinnest realme smartphone ever at 7.49mm, that received massive positive responses from the users.
Innovative Features: realme narzo series continually introduces innovative features that cater to the evolving needs of our customers. Whether it's advancements in camera technology, cutting-edge display enhancements, or large storage we strive to stay ahead of the curve. With the narzo 60 Pro, we have introduced 1TB smartphone, that is exclusively for the Indian market.
Our dedication to empowering users with powerful smartphones, without any constraints on the budget, drives us to keep pushing the boundaries of innovation.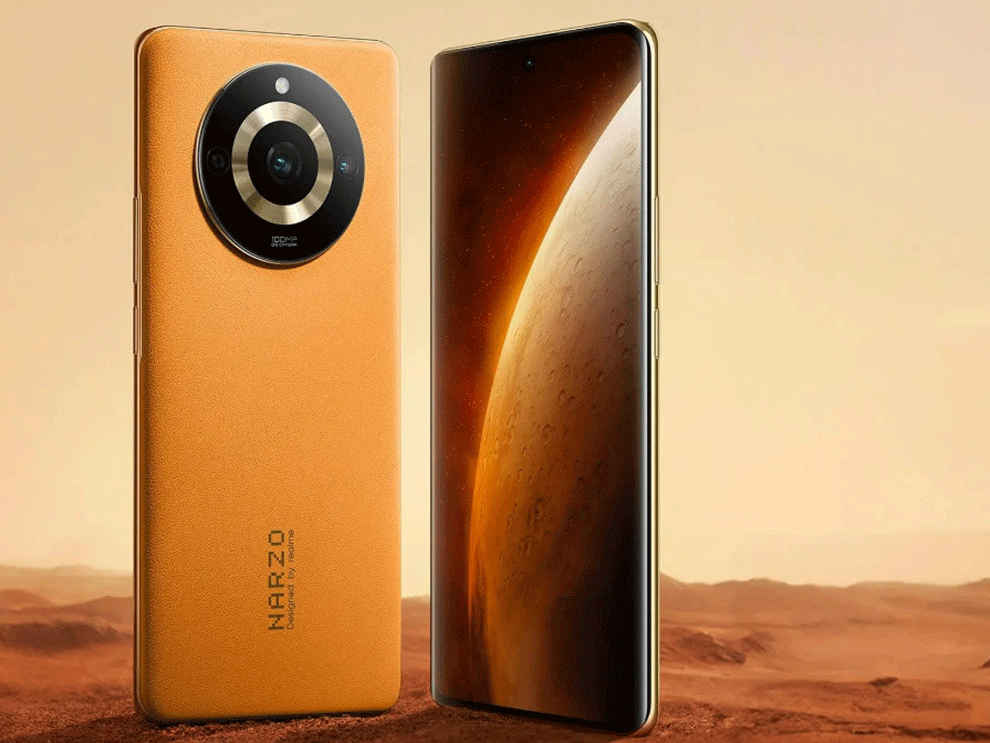 Digit: Could you please highlight a few industry-firsts or technological improvements made in the new realme narzo 60 series?
Bazul Kochar: At realme, we are consistently pushing our limits in terms of innovation and design and redefining our brand. We commit to delivering the best in class performance, design and other key features that sets us apart in the industry.
Below are the technological improvements made in the realme narzo 60 series:
1TB Storage: The realme narzo 60 series is the first to introduce 1TB smartphones that are exclusively for the Indian market. With a segment-first storage milestone and realme's Go Premium strategy, realme narzo 60 Series 5G is exclusively designed for Indian Gen-Z introducing two smartphones namely: 'realme narzo 60 Pro 5G' and 'realme narzo 60 5G'.
Design: Inspired by the Martian Horizon, the smartphones come in two color variants - Mars Orange and Cosmic Black, featuring premium vegan leather design. Our sleek and futuristic design embodies the spirit of exploration and possibility.
Auto Zoom technology: The realme narzo 60 Pro 5G is provided with the industry's first Auto-zoom Technology Integrated subject detection model and automatic cropping model that allows professional photographers to carry out the aesthetic composition of 10,000+ photos, rendering millions of matching images for data training. This feature is integrated into the street photography mode, which can accurately identify the user's click area and intelligently match the composition area, forming master composition images.
Automatic Brightness Adjustment: In order to optimize the screen backlight experience of the realme narzo 60 Pro 5G, the industry's first 20,000-level Automatic Brightness Adjustment expands the original backlight level of the screen, reduces the physical brightness differences between similar backlight levels, and monotonically smooths the actual physical brightness of the screen, making more accurate and delicate backlight brightness adjustment.
HyperVision mode: The realme narzo 60 Pro 5G is provided with industry-leading video image quality enhancement technology to dramatically enhance the video viewing experience with Video Color Boost and HDR video highlighting features.
Dash memory engine: 4 major technologies of the bandwidth instant technology pioneered by the realme, as well as intelligent preloading, asynchronous memory management, and APP breakpoint reading, can ensure faster switching and start-up of APPs and more background active APPs. With the support of the dash memory engine, not only there is no sticking in multi-application switching, but also the background can be switched in the game safely.
Dual charge pump technology: With the innovative 2:1 dual charge pump solution, the conversion efficiency between the tow charge pumps is up to 98% Charging speed: 47min to 100% charge, 18min and 21s to 50% charge.
Digit: How seriously does realme take R&D? Could you give us some insight into the company's R&D process and how many centres are present in India, if any?
Bazul Kochar: At realme, our focus is on spearheading significant technological advancements. Hence, we have set up a dedicated institute in India- The Realme Global Institute of Leap-forward Technology. This institute is primarily responsible for collecting and organizing feedback to ensure the relevance and adaptability of realme's products in the Indian market. It enables us to provide faster and higher quality output in technology, product and marketing.
We have expanded our R&D team which consists of 60% of the total employees. The institute focuses on driving innovation across six key areas: charging, photography, display, gaming, chipset and industrial design. We also encourage our technological experts to collaborate and work closely with industry laboratories and other external partners.
Digit: realme has partnered exclusively with Amazon for its narzo series, while the Number series is present on Flipkart. Could you comment on these partnerships and provide a few statistics to help us gauge how fruitful these have been over the last few years?
Bazul Kochar: After the resounding success and expansion of our narzo series in India for three years, we have continuously challenged ourselves to push the boundaries of technology and deliver cutting-edge products. With the narzo 'N' series, we took a tech-forward leap, introducing groundbreaking features that set it apart from the rest.
The introduction of the first 64MP camera and the first 33W fast charging technique in the narzo 'N' series has been a game-changer in the smartphone industry. These innovations were a result of our commitment to providing our customers with personalized experiences and our relentless pursuit of excellence.
Introducing our narzo products on Amazon has proven to be immensely fruitful. We were thrilled to witness the remarkable demand for our products, as we sold an impressive 100,000 units of the realme narzo N53 on Amazon in just 90 minutes. Within a matter of hours, the realme narzo N55 emerged as the best-selling smartphone in its price bracket on Amazon.
These statistics reflect the overwhelming appreciation and trust our consumers have placed in realme. Their continued support has been a testament to our dedication to delivering top-notch products and experiences in the competitive smartphone market.
With the narzo 60 5G series, we aim to disrupt the smartphone category on Amazon by introducing mid-premium smartphones that are power packed with excellent performance, design and best in class features.
Regarding our association with Flipkart for the Number series, we are equally committed to providing exceptional devices and experiences to our customers through this platform. The Flipkart partnership has allowed us to expand our reach and cater to a broader audience, showcasing our innovative offerings to a diverse user base.
The realme Number Series has been adored by users worldwide, with over 50 million users globally and 32 million users in India, and the number is increasing significantly. The realme 11 Pro+ 5G had its first sale on June 15 and it saw a tremendous response on the first sale day, it has sold over 60K units on the first day of its sale. It is the highest first-sales record above 25K+ Price segment. Moreover we were able to achieve highest First Sale record on Flipkart in 20k to 30k segment.
We understand that innovation is the key to success, and we remain steadfast in our pursuit of excellence. Our exclusive partnerships with Amazon and Flipkart have played a crucial role in making our products accessible to a wider audience, ensuring that more customers can experience the advancements we bring to the market.
Digit: Are vegan-leather back panels the new 'fad' in the smartphone industry in 2023 since many manufacturers are incorporating it into their mid-range smartphones? How does realme's design stand apart?
Bazul Kochar: Indeed, vegan-leather back panels have been gaining momentum in the smartphone industry in 2023, with many manufacturers incorporating them into their mid-range smartphones. This shift reflects an increasing global awareness and preference for environmentally-friendly and cruelty-free material. realme, as a forward-thinking tech company, is committed to sustainability and customer-centric innovation. Our design philosophy revolves around delivering top-notch products that not only meet the needs of our users but also align with their values. Our take on vegan-leather back panels stands apart from the fad by focusing on two key aspects:
Premium Quality & luxury appeal: We believe in offering a premium experience to our users. Our vegan-leather back panels are carefully crafted using high-quality materials that not only look and feel luxurious but also ensure durability. We take pride in delivering a premium tactile experience that elevates the overall feel of our smartphones.
Unique Aesthetics: realme's design studio is always striving to push the boundaries of innovation. Our vegan-leather back panels are not only eco-conscious but also boast unique textures and patterns. This allows us to offer our users a refreshing departure from the common glass and metal backs, providing a distinct and fashionable appeal.
For realme, it's more than just a passing fad. Our approach to vegan leather emphasizes premium quality, luxurious appeal and craftsmanship, and distinctive aesthetics, making it an integral part of our mission to create technology that's both user-centric and environmentally responsible.
Digit: What is the core audience targeted by the narzo series and how is it different from the Number series? Please elaborate.
Bazul Kochar: realme's narzo series and realme Number series cater to distinct consumer segments, each designed to meet specific user preferences and demands.

The primary distinction between the narzo series and the Number series lies in their specific target demographics and priorities. While the narzo series focuses on delivering outstanding performance and is the Next-gen tech Pioneer with performance and captivating design for tech enthusiasts and multitaskers. Additionally, the series' design language and branding resonate well with the next generation, adding a touch of individuality and style to their mobile lifestyle.
realme Number series takes a more well-rounded approach, aiming to provide a satisfying user experience across a broader user base. The series addresses a broader audience that values a balanced combination of performance, camera capabilities, and overall user experience. This product line is designed to cater to the diverse needs of everyday users seeking reliable and feature-packed smartphones. The realme number series is crafted to provide users with a boundless experience. The realme number series holds a special place in our product lineup as it represents our hero product line and signifies the beginning of our journey. We are proud to share the news that moving forward, every Number series launch will incorporate at least one of the industry's leap-forward technologies, ensuring it stands as the best-in-class offering.
Digit: It's been a while since we've seen a new launch in the realme GT series. Any comment on that since these phones are highly-anticipated and great value for money?
Bazul Kochar: realme GT series has indeed gained immense popularity for its cutting-edge features, high performance, and competitive pricing. We are delighted that our customers recognize the value-for-money proposition we offer through this series.
As for the release of the next realme GT device, we want to assure you that our teams are diligently working on developing a remarkable product that meets and exceed the expectations of our users. We value the trust and excitement of our customers and are determined to live up to their expectations by launching products as per their evolving needs. Stay tuned for more updates!
Digit: The realme narzo 60 Pro and realme 11 Pro are strikingly similar when it comes to specs. Is the narzo 60 Pro a rebranded Realme 11 Pro? If not, what sets the two apart?
Bazul Kochar: First and foremost, we want to clarify that the realme narzo 60 Pro is not a rebranded version of the realme 11 Pro. While they may share some common specifications, it's essential to understand the distinctions that set them apart.
Design and Aesthetics: The realme narzo 60 Pro and the realme 11 Pro feature unique design elements and aesthetics. While both the devices are crafted to be visually appealing and ergonomic, they come with distinct design languages that cater to different consumer preferences. For example, the realme 11 Pro comes with 3 color variants like Sunrise Beige, Oasis Green, and Astral Black and the realme narzo 60 Pro comes in 2 color variants inspired by the Martian Horizon - Mars Orange and Cosmic Black. To cater to our audience, we have not included the line at the back of the narzo 60 Pro, as it makes it appealing to the Indian Gen-Z users.
Target Audience and Market Positioning: Each product in the realme lineup is carefully designed to cater to specific target audiences and address their varying needs. Both the smartphones are tailored to cater to different segment of consumers, taking into consideration factors such as pricing, features and overall experience. For the narzo 60 series, we have curated it for the Indian Gen Z, who prefer smartphones with premium design and power packed performance.
Performance and Features: While both devices may have some similar specifications, they may also offer distinct performance capabilities and exclusive features. Our engineering teams work tirelessly to optimize each device's performance to meet the demands of their respective target audiences. For the narzo 60 Pro, we have introduced the first 1TB smartphone that is exclusively for the Indian market.
While there might be some overlapping specifications, however, both realme narzo 60 Pro and realme 11 Pro are distinct products, each aimed at providing a unique and satisfying smartphone experience to their respective users.
Digit: What's your favorite feature on the realme narzo 60 series that you use in your everyday life?
Bazul Kochar: Out of all the exceptional features that the smartphone offers, my favorite feature in the narzo 60 5G series is the in-display fingerprint scanner. It is a very efficient feature that can be used in any situation as it helps with fast and secure unlocking.