Samsung is gearing up to introduce a new addition to its M-series lineup in India - the Galaxy M34 5G - and once again, our expectations are sky-high. The M-series has consistently offered exciting segment-first features at an exceptional value. It is one of the most popular series in India, having served millions of happy customers over the last 5 years.
The Galaxy M10 set the stage with a dual camera system with an ultra-wide lens in 2019 and the M-series hasn't looked back ever since. The Galaxy M30s was a powerhouse with a massive 6000mAh battery and the very popular Galaxy M51 managed to house a whopping 7000mAh battery in an elegant and ergonomic design. In 2022, the Galaxy M53 wowed consumers with a 108MP camera in the value segment.
So, it's anticipated that the next in the M-series "Must be a Monster". The M-series phones have consistently aimed to meet the needs of young consumers who have a strong desire to express themselves meaningfully. In fact, the Galaxy M34 5G is already shaping up to be a really cool phone. It boasts a vibrant 120Hz sAMOLED display with Vision Booster technology, a 50MP No shake camera that's all about fun and engagement, and a monstrous 6000mAh battery that promises to keep you going. Let's talk a bit more about why the Galaxy M34 5G shines as the ultimate choice for the Gen Z squad!
Capture perfect moments with 50MP No Shake Cam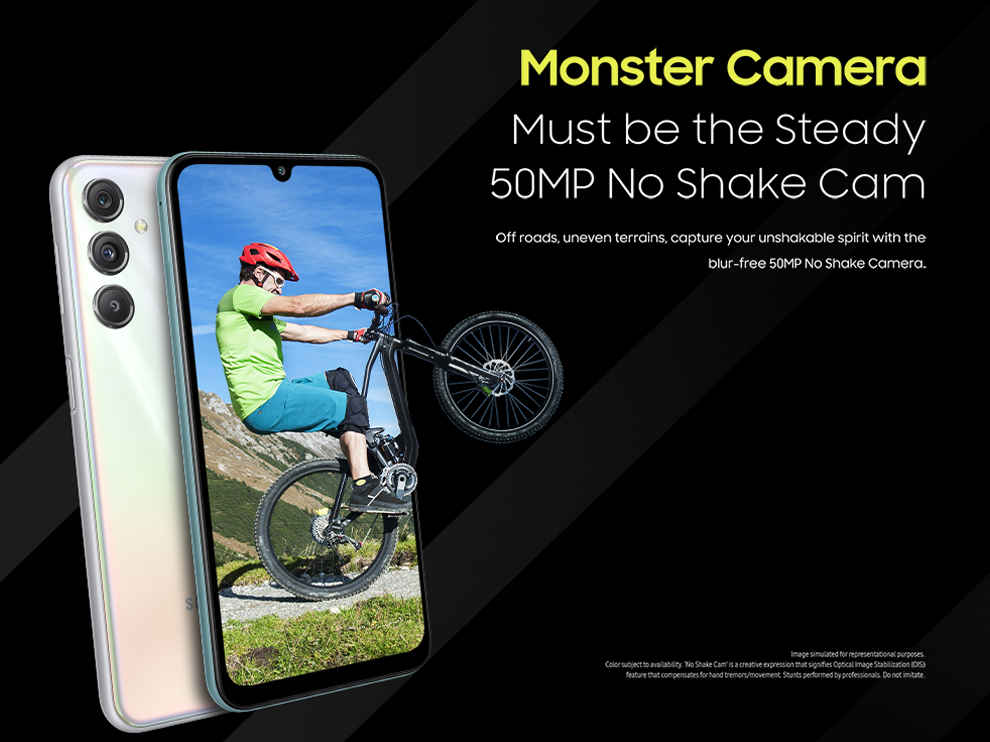 The primary camera sensor on the Galaxy M34 5G not only has a sharp 50MP sensor but also features No Shake Cam, which means you will be able to capture detailed and blur-free images or videos even when you're holding the phone in your hand.
Samsung further integrates valuable Nightography enhancements that elevate your captures in low-light or night-time settings. This will ensure that you can confidently capture challenging scenes without compromising their natural essence.
And if you are unsure about the best way to capture a fleeting moment, there is Monster Take. With just a single press of a button, this feature intelligently decides on the optimal settings and captures multiple images and videos, giving you a range of options to choose from.
Adding to the fun factor, the Galaxy M34 5G also has a Fun Mode that includes several catchy filters. The mode lets you add quirky stickers and apply artistic effects and thus presents a delightful way to creatively enhance and transform your photos and videos.
With support for up to 4K recording, you can create videos with exceptional clarity and detail. There is also an 8MP wide-angle camera to take wide-angle shots that capture more of the scene in a single frame.
Immersive and smooth display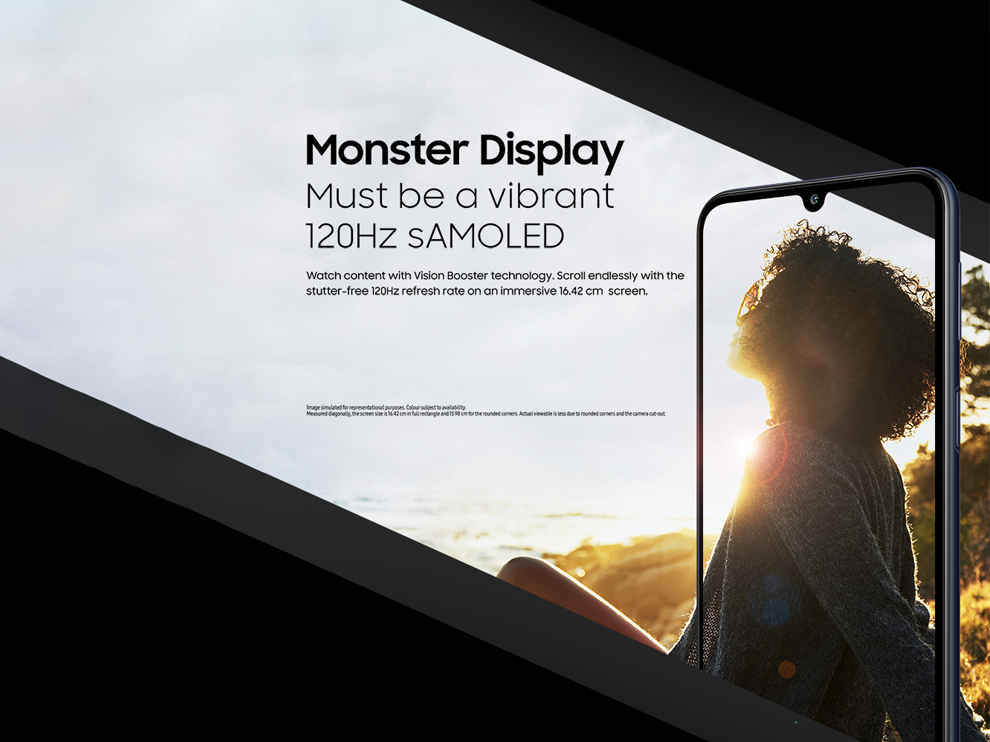 A great display can greatly enhance your overall user experience by immersing you in the content that you engage with, be it social media, videos, or gaming. The Galaxy M34 5G will include a vibrant 16.42cm sAMOLED display with deep blacks and high contrast to uplift your video-watching experience. Thanks to the 120Hz refresh rate, you will be able to enjoy super smooth scrolling and fluid animations.
The display also benefits from Vision Booster technology that tone maps the display according to the ambient lighting. It can also get up to 1000 Nits bright in High Brightness Mode, which means as soon as you step outdoors in the sun, your phone's screen will adapt to the bright ambience and remain legible just so you don't have to cup your hands or hunt for shade to catch an important message.
Adding to its impressive features, the display is protected by Gorilla Glass 5 which shields it against scratches and accidental drops.
Monstrous Battery to fuel your adventures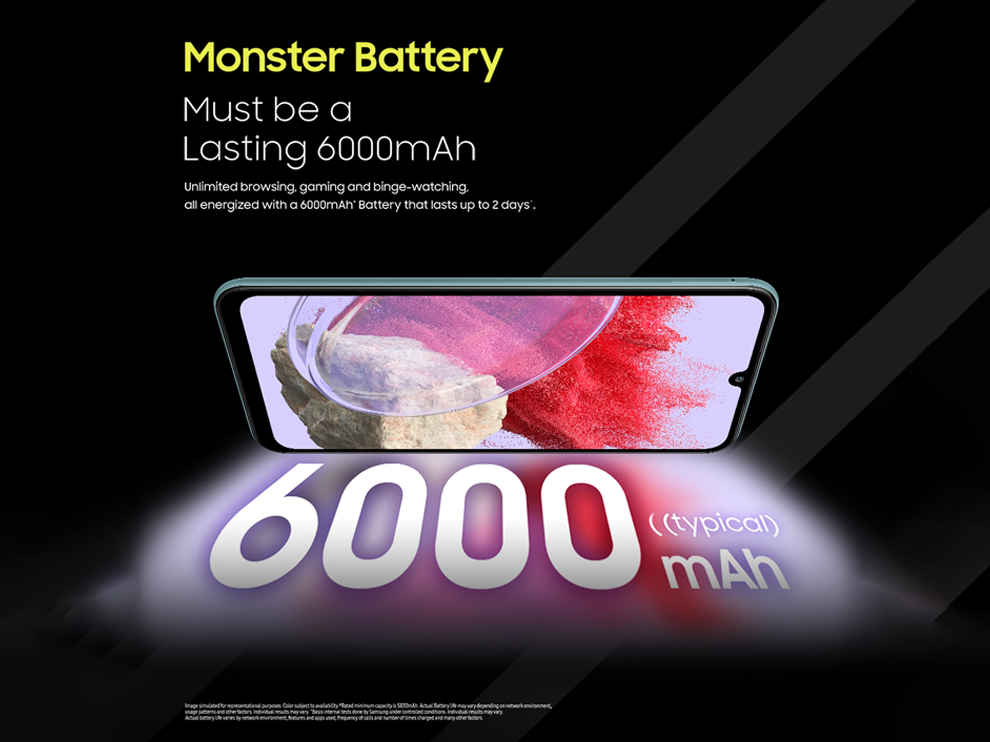 The Galaxy M34 5G also packs a monstrous 6000mAh battery that has the stamina to last for up to 2 days. This means, no matter how hard you push it, this powerhouse will keep you up and ready to conquer your day with juice to spare. You can confidently indulge in capturing countless selfies, streaming your favourite shows, browsing to your heart's content, and allowing your creative juices to flow - all without any battery anxiety!
Another game-changer!
Galaxy M34 5G promises to be an exciting addition to the M-series. The phone promises to offer a remarkable user experience, combining cutting-edge technology and innovation. As we eagerly await the launch, it's clear that the Galaxy M34 5G holds great potential to captivate and meet the expectations of smartphone enthusiasts.
The phone is set to launch in India on July 7th - head to Amazon and Samsung.com to get notified.
[Brand Story]