I recently sat down with Vickram Bedi, Senior Director of HP India, during the launch of HP's new gaming laptop series which I've reviewed for Digit. Our conversation covered a lot of ground. We discussed HP's views on new trends like gaming handhelds and how the company plans to fit into this emerging market. We also talked about the impact of the global economic downturn on HP's business and how they're navigating these challenges. One of the key topics was HP's efforts to improve its products, particularly in areas like cooling technology and design upgrades. Moreover, we explored HP's focus on the 'creator economy', its plans to support content creators, and potential future collaborations. Throughout our chat, Mr. Bedi gave us his thoughts on the gaming handheld form factor, HP's upcoming mission and their take on the tech industry's present and future.
So there is another category that is also emerging right now as we speak, and it is the gaming handheld like the Steam deck and many other Kickstarters as well. It is an early ship to jump on board, but do you see HP coming around with that idea sometime in the future?
I think these new form factors are always emerging. Actually, there's not been one for some time, so we are evaluating many new form factors. One of them is this one (gaming handheld). We just need to see how good the game plays on that thing and how sustainable it is over time and then evaluate that it.
Also Read: HP Pavilion x360 14 (2023) Review: Portable, efficient, and versatile
So it is among the many things that are being discussed and because there are other form factors too, which we're trying to see.
Currently, we are waiting over two main things - one, I think where the handheld form factor goes over time and what is the long game? And second, how much value can we add to it? Like what can we bring to the handheld form factor, which makes it much, much better? Because we want to bring innovation to the table. For instance, so cooling, like really better cooling.
Cause HP is known for cooling. But we want to see how it will fit for that form factor. Right. so for us right now, the HP Omen Transcend is the one where we applied all of that stuff. Because you have to understand the power equation also, right? Like is it dumbing down power too much because the form factor is so crunched, if it is not, then the cooling, how much can you crunch down before cooling effects?
So, jumping on from design and performance and product engineering to market. In 2023, things globally are taking a downturn. What main challenges have been in the way this quarter and what are the projections for the next quarter?
I think that what is really strong is the domestic market and what is even stronger is the resilience of the domestic market. Despite all the stuff that you mentioned, because now there's a lot of consumption locally and the government is powering it. Likewise, small business is powering it. The small business owner is powering it and most importantly the consumers are powering it.
The one sector, which is a little bit depressed is the one that is serving the global economies. For instance, all the folks who are selling to serve Europe and the United States. But we'll see how that one goes. But underlying there is enough strength. I think we've always believed in looking at pockets because the overall tells you a story, but the pockets are very different.
Gaming is robust. So is the Premium segment. The commercial side is very strong. Similarly, workstations are very strong. The desktop form factor is holding up much better than notebooks because offices are opening, people are realizing And there is an upgrade cycle pending for desktops. Yeah. Yeah. So there are pockets overall.
Yes. Demand is less than the pandemic, but still 1.7x for us. And I think we need to break it down and look at pockets of opportunity and then, Double down on those. Yeah. I mean, intensity can vary from area to area. So some will come up now, and some will come up later.
Also Read: HP Pavilion Aero 13-be2047AU Ryzen 7-7735U (2023) Review: An almost perfect blend of portability and performance
With HP's latest laptops now hitting the market. After testing them I know they have awesome cooling and sought-after gen-to-gen upgrades in terms of design as well as performance. So in what areas do you see HP dedicating its focus next?
So I think, firstly for us, a lot of this new innovation is in the hardware. For instance, we have now 14 Omen playgrounds. We're pretty soon gonna take that to 40 and we are now in well Tier 2 towns where we are bringing in more people into the gaming fold. And get them entrusted and get them into high-end gaming. Similarly, we want to look at the augmentation with HyperX and to see what else can we integrate, you know, the display, the keyboard, the, and then thirdly, kickstart the creator economy.
Because we think this is probably the best product as it's available easily. People get it. Technology is solid. We just need to then, like we had done for gaming many years ago, we have to know because gamers will also become creatives. Yes. Which is only happening. Look at you. And there is monetization that we wanna support that monetization. So that's kind of our focus, which is also innovation, but of a different kind.
Any particular idea that you really want to implement in terms of monetization to help creators financially?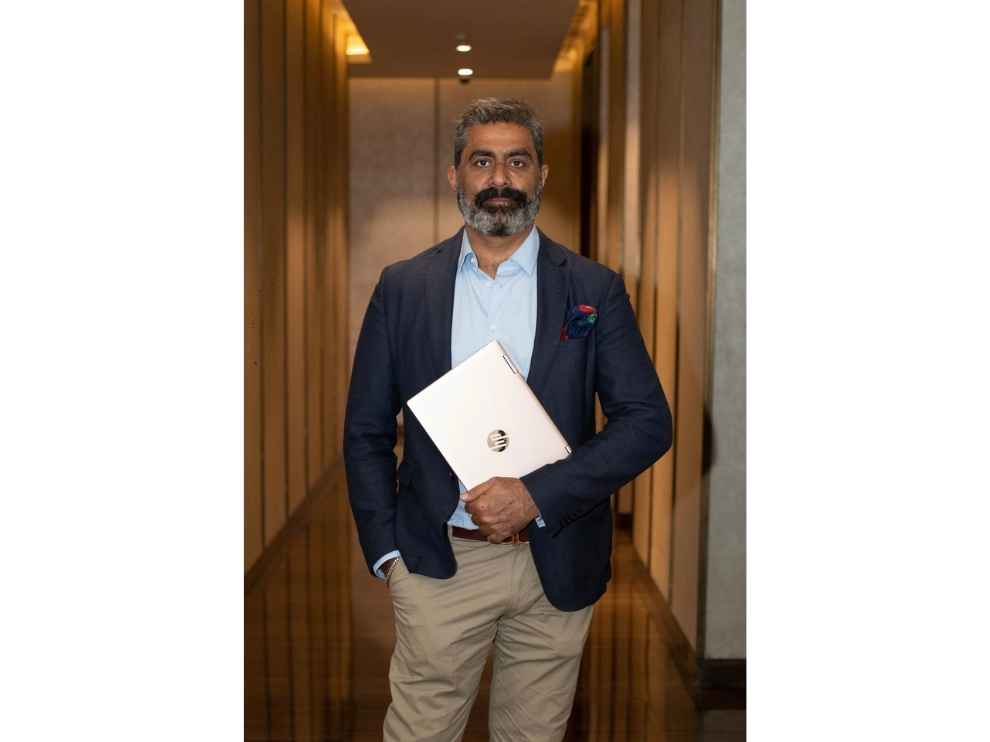 You know, first of all, we have to go and engage with them. There will be some who are already doing it really well. Then we have to connect them with the ones who want to do it, and then look at the roadblocks - Is it the hardware, the affordability, the installments, whatever. But the larger focus is going to be the creator and making the content creation around games much more local. Earlier, we mostly had gaming content from outside of India but now the creation is much more local and it is also evolving differently from its global counterpart.
So how do we enable that? How much of the creation is for outside, on platforms like Instagram? And How much is for inward and how much is regional?
And then how do you go about supporting it? Because we also have the Z portfolio on the workstations in Nehru Place. I don't know if you've been there. What that is trying to do is on the, on the ground floor, we have like all the products, and then on the top floor, we have an area which is for where the influencers usually come in.
So what does it take to really make great videos? What can augmented reality do? What is data science? How do you go around building an AI lab? There is a deep creation, which is that side.
Moreover, we are also trying to help on both sides. There's a collaboration with Intel going on right now, in which we've announced the first university to have an AI for youth or a K-12 curriculum. Okay. There are certificate programs in which the government's also helping. And then something similar for higher education as well. Okay. We're in the middle of a lot of action because it all leads to the same creative economy.
A lot of the jobs in the future are not gonna be the ones that I grew up looking at. So more skill, enhance enhancement in the future. And more monetization for those skills and we want the younger generation to be prepared for that.
Any exciting collaborations in the future you're looking for?
Tournaments for games, eSports arena, and seeing these games being represented on a national level like you'd in Common Wealth games is something I hope for. Yeah. I mean, to me it would be a dream come true if it's part of the Commonwealth Games. Because then it'll be like, Pure high skill legitimate sport.
And it will happen eventually. Yeah. I mean, that's the way forward. A proper and the right way forward.