15-inch Apple MacBook Air M2 - The One To Get!
Needless to say, the 15-inch Apple MacBook Air M2 is a highly anticipated device since the beginning of this year. And now Apple has finally delivered what the masses have been asking for—a 15-inch MacBook Air at an affordable price. Before the 15-inch MacBook Air if you wanted to buy a big-screen Macbook you only had one option - a 16-inch Macbook Pro which starts from Rs. 2 lakh 22 thousand! Because in the affordable range, below Rs. 1.5 lakh, you could either get a 13-inch Macbook Air or a 13-inch Macbook Pro!
So now you know how important of a slot this 15-inch M2 Macbook Air actually fills! A large-screen MacBook priced for the masses. And It's a very intelligent move because Mac sales have been declining recently. But hey, Apple knows when it's time to inject some demand into the market. So, let's see if the MacBook Air M2 is the answer we've been waiting for.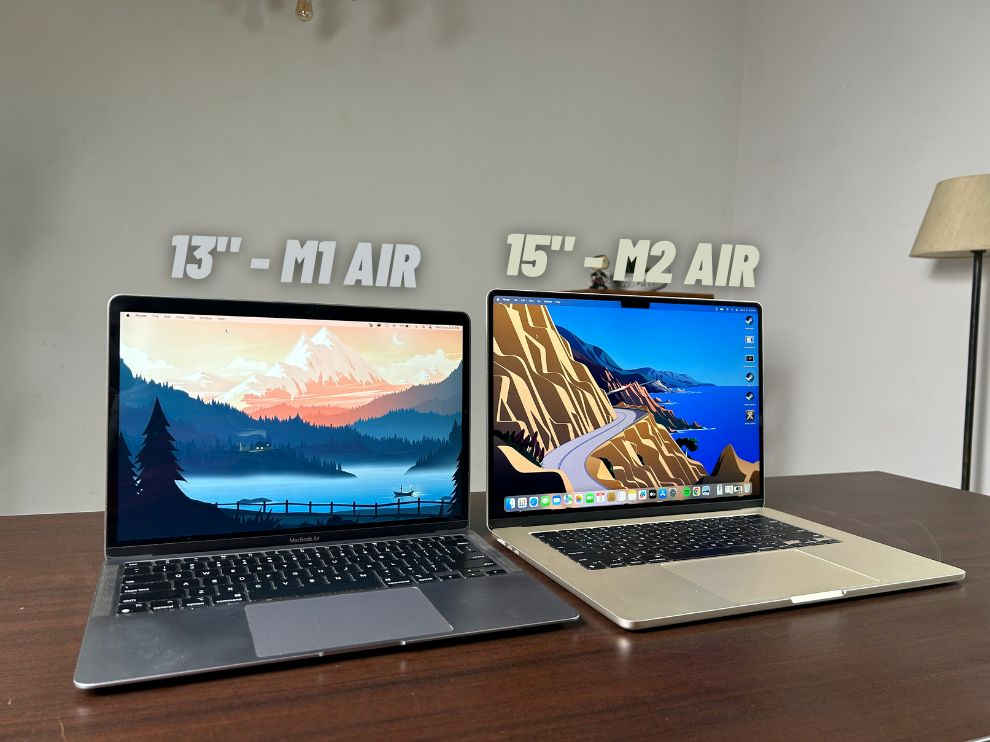 An All-Grown-Up Design
When it comes to design, the MacBook Air M2 sticks to Apple's signature sleek and lightweight aesthetic. But the real star of the show is the 15.3-inch display. It's spacious, it's immersive, and it's everything you'd want from a larger MacBook Air. Plus, with a gross weight of just 1.51kg and a thickness of just 11.5mm, it is still very portable to carry around basically everywhere. In terms of I/O, it comes with two Thunderbolt / USB 4 ports, a MagSafe charging slot, and a 3.5 mm audio jack. There is no USB A so I'd suggest getting one of these in case you plan to purchase this thing.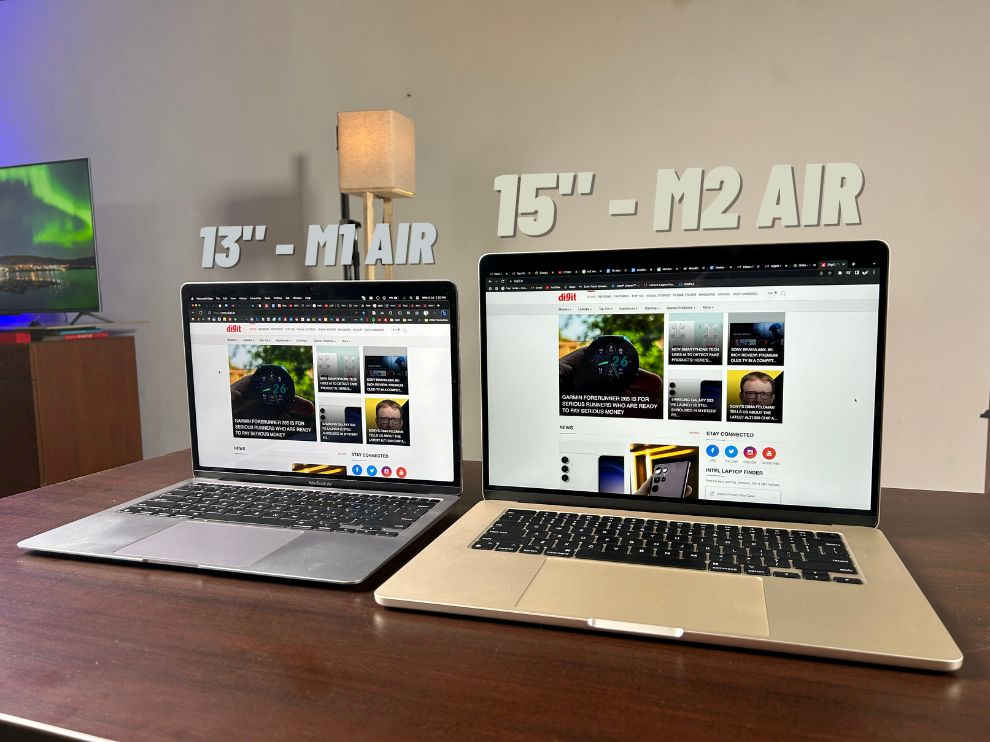 The MacBook Air 15-inch M2 boasts a standout feature that sets it apart from the crowd—its large 15.3-inch Liquid Retina display. With a native resolution of 2,880 x 1,864, this display is perfect for whether you're watching videos, browsing the web, or editing photos, the MacBook Air 15's display offers an immersive experience. In terms of colour saturation though, it is not as good as some of the OLED displays that we've started seeing on Windows laptops. But it still is objectively very good and does get very bright for both indoor and outdoor environments. And let's not forget about that because there is more space inside the Macbook, it also has more speakers. Now, Apple speakers are generally very good but the 15-inch MacBook Air takes it to another level, surpassing any other laptop in its class. It's like having a mini sound system right at your fingertips.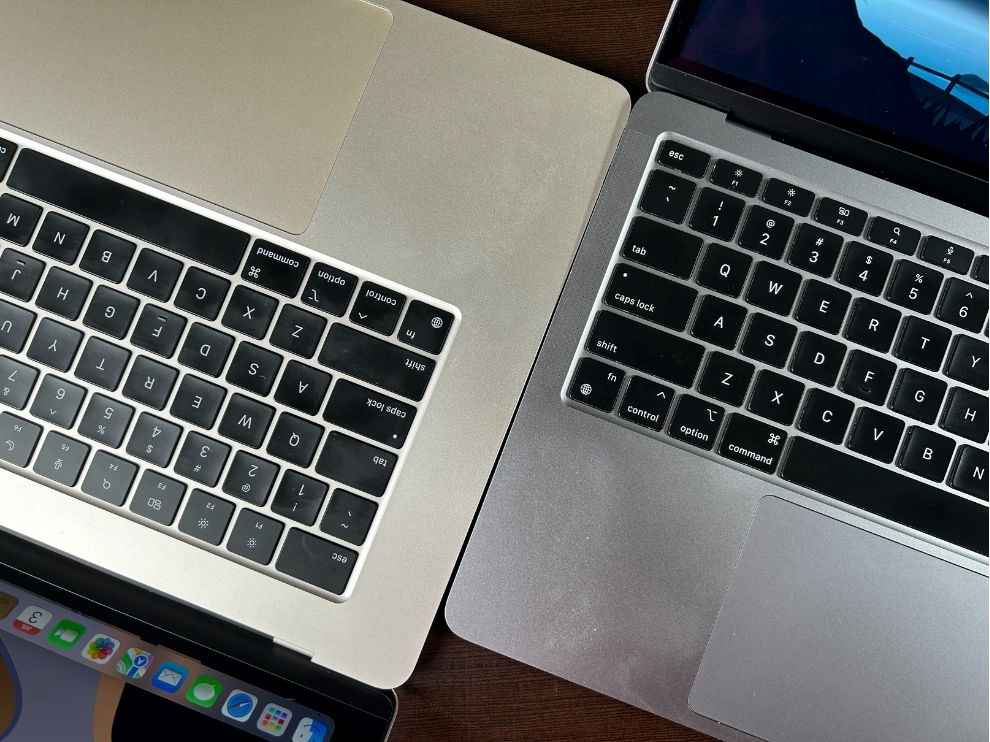 Also just like the 13-inch model, the speakers are now placed on the inside and they fire up towards the screen which is reflected back to you! One clear advantage I see of having no open speaker grille is that they will stay dust free. And combined with the totally fanless design of the laptop, the 15-inch Macbook Air M2 becomes a great choice, especially in India where there's a lot of dust always flying around. One common complaint with smaller laptops is the lack of sufficient palm rest area, but that's not an issue here. The 15-inch M2 Macbook Air has enough space to rest your palms. It's a small detail but it makes a big difference in overall ergonomics. The trackpad is also big, even bigger than the 14-inch version and it works quite literally flawlessly. I mean it's even on all sides, and offers precise clicks doesn't matter where you press. And the 15-inch MacBook Air M2 also features a keyboard that's consistent across the line. Apple has come a long way from the days of its infamous terrible keys. and With improved key travel and a design that minimizes the risk of debris getting trapped. It's a relief for anyone who values a reliable and hassle-free typing experience.
Performance and Benchmarks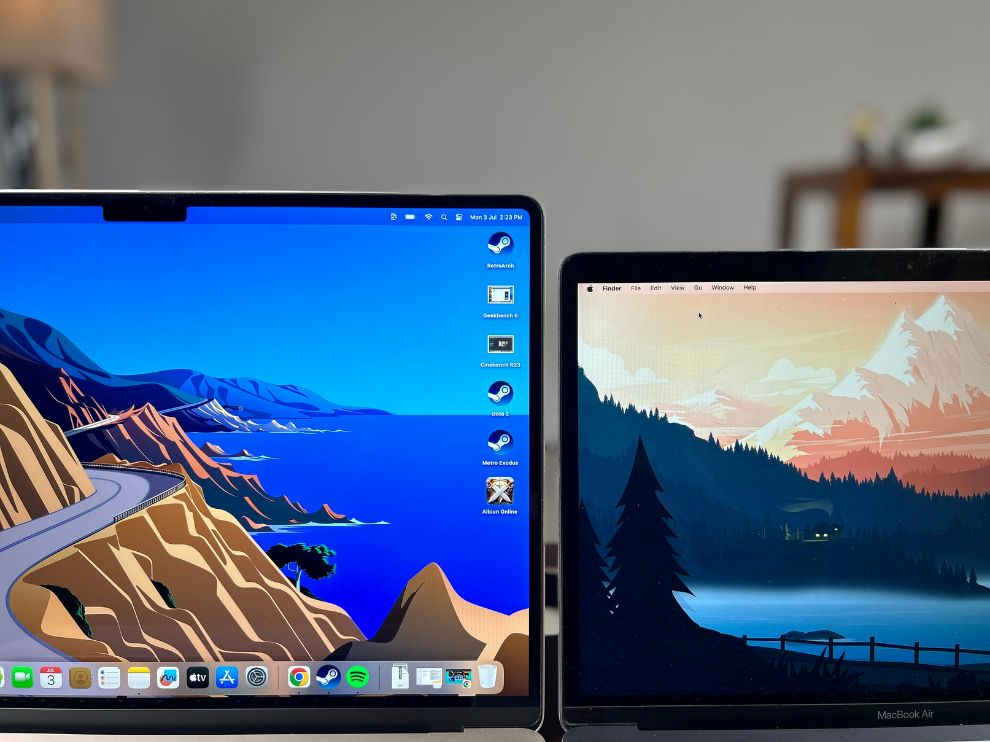 What is even better on this machine is the performance, I have the base model here with 8GB RAM and 256GB SSD and even then this feels very snappy. But what's more impressive is its price-to-performance ratio. Let me explain! The M2 chip in the 13-inch Macbook is available in two variants -
One with an 8-core CPU and an 8-core GPU for Rs. 1.14 lakh
Another one with an 8-core CPU and a 10-core GPU for Rs 1.44 lakh
And the M2 chip in the 15-inch Macbook Air only has 1 variant, the more powerful one! And it only costs Rs 1.34 lakh. Now, provided that the faster 13-INCH M2 Macbook comes with 512GB SSD by default, but for someone who wants a bigger screen and all the benefits that come with a bigger chassis, the 15-inch is the one to go for. Besides, you can always attach an external SSD to your Mac and resolve the low storage issue. And the supposedly slower 256GB SSD does seem to be lagging behind on paper but in real-world usage, it's barely noticeable.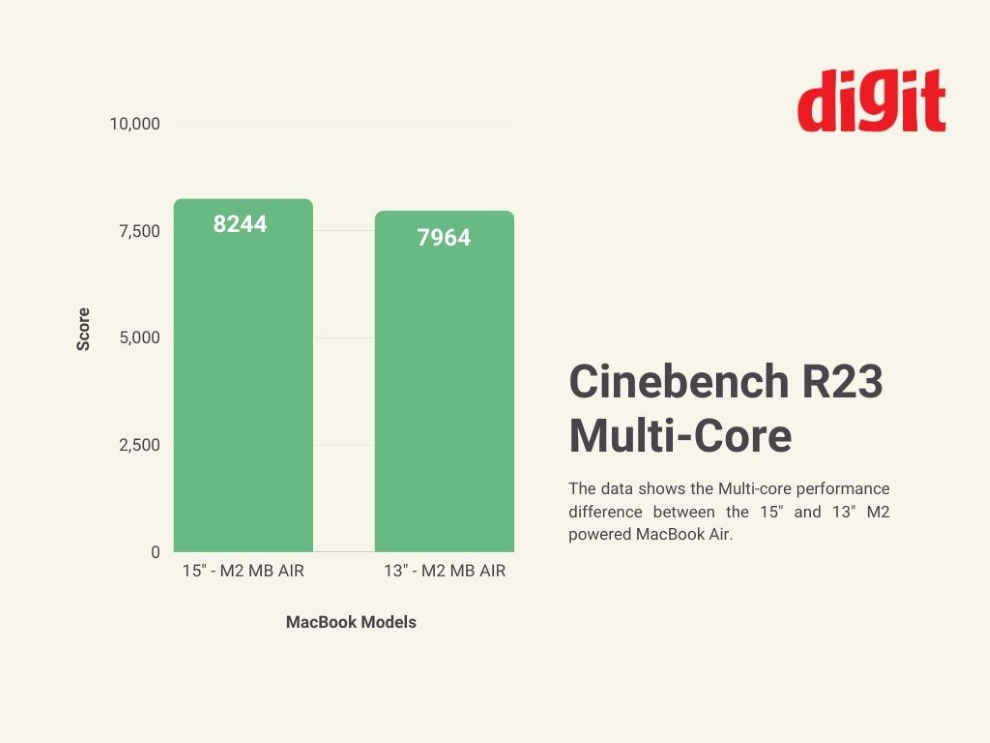 In the benchmarks, you can see the multicore performance diff. between the 13-inch and the 15-inch base model Macbooks. But the single core score is almost the same. So tasks like opening or closing apps, or editing documents, and the general process of scouring the web is just identical across two devices.
Also Read: 5 major ways Apple Safari's privacy settings are better than Google Chrome browser
So what I am trying to say is that whether you're editing videos, browsing the web, or doing a lot of stuff at once, the MacBook Air M2 will just glide through all that. And I know that no one would play games on a Macbook but I went ahead and did so anyway. Specifically, I played the DOTA 2 and the Metro Exodus and they both performed really well for a thin and light MacBook with no fans! And after playing these games I realized that these are capable machines and only need developer support on it. I mean Resident Evil Village, which is optimised for Apple Silicon, runs very well on the M2 MacBook Air and Apple also announced a game porting toolkit that'd give developers an easy way to bring more of their games to Macbooks. So Apple may not have been all that serious about gaming in the past but things are starting to change.
Goes on and on!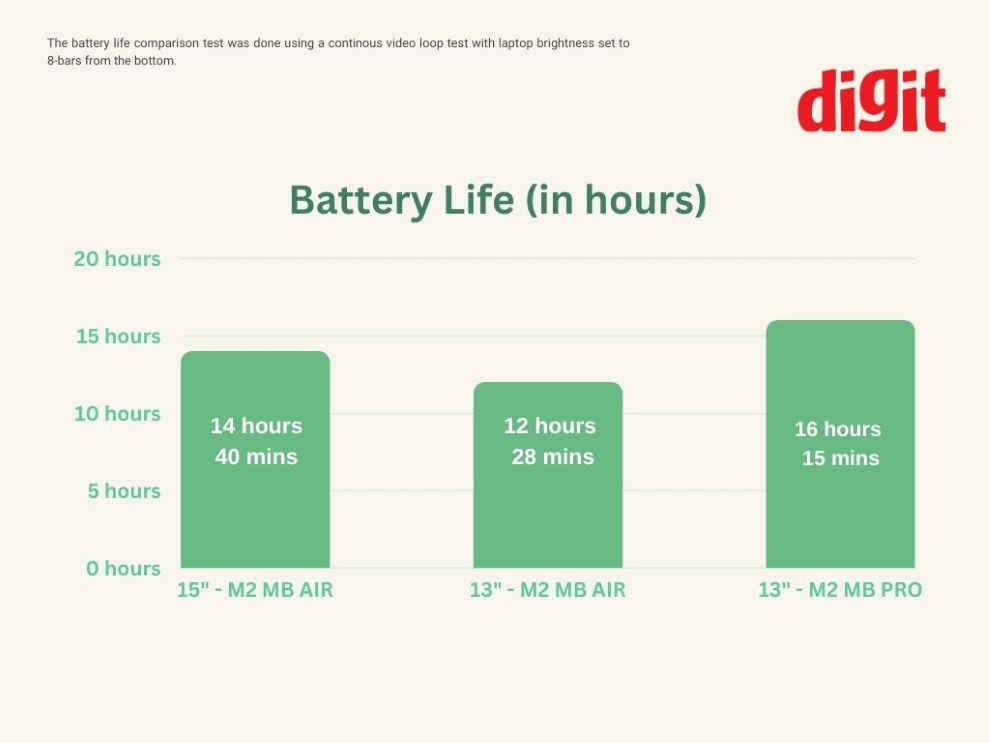 What's also changed is the battery life. The 15-inch M2 Air averages around 14 and a half hours, falling right in between its smaller siblings—the MacBook Air 13 and the MacBook Pro 13. I mean you can easily survive a full workday on one charge. The MacBook Pro 13 with the M2 chip has an impressive battery life of 16 hours and 15 minutes, outperforming both the MacBook 15 with M2 chip at 12 hours and 28 minutes and the MacBook 13 with the M2 chip at 14 hours and 40 minutes.
Also Read: 12 amazing apps honoured as Apple Design Awards 2023 winners
Winding up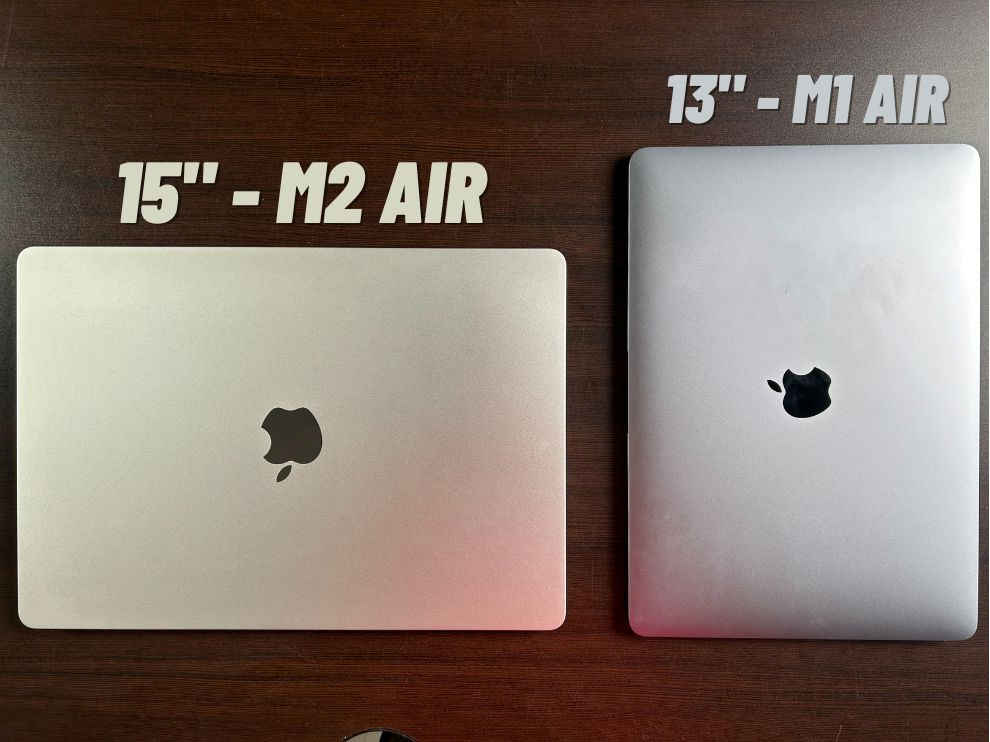 So, here's the bottom line—Apple has listened to its users and delivered a MacBook Air that ticks all the right boxes. It is not changing the world in any way but it is doing what a laptop is supposed to do, here's the important part, and then some more. Like when I talked about gaming, Apple is slowly and surely getting there, So This was the 15-inch MacBook Air M2 and I think here's why this is the one you should get.